When you're making webgalleries in Lightroom you are able to upload your gallery directly to an FTP-server. But if you are a photographer who just wants to upload your files to an FTP-server, without the gallery files (html, flash etc.) you're toast… until now.
Scott (Principal Photographer) mailed me and asked if I knew any good way to be able to just export the images to an FTP server.
He just needed a quick way to export his clients images into a folder on a server.
After some Googling without great results, I downloaded the Adobe Lightroom SDK and started to play around. Fortunately a sample plugin for FTP-uploads was available! So within a couple of hours I think I have saved, not only Scotts' workflow-time in Lightroom, but a bunch of others who are looking for this feature in Lightroom. This is actually just a rip-off the sample plug-in that Adobe delivers with the Lightroom SDK. I've just put a logo on it and made it public to the rest of you!
Screenshots: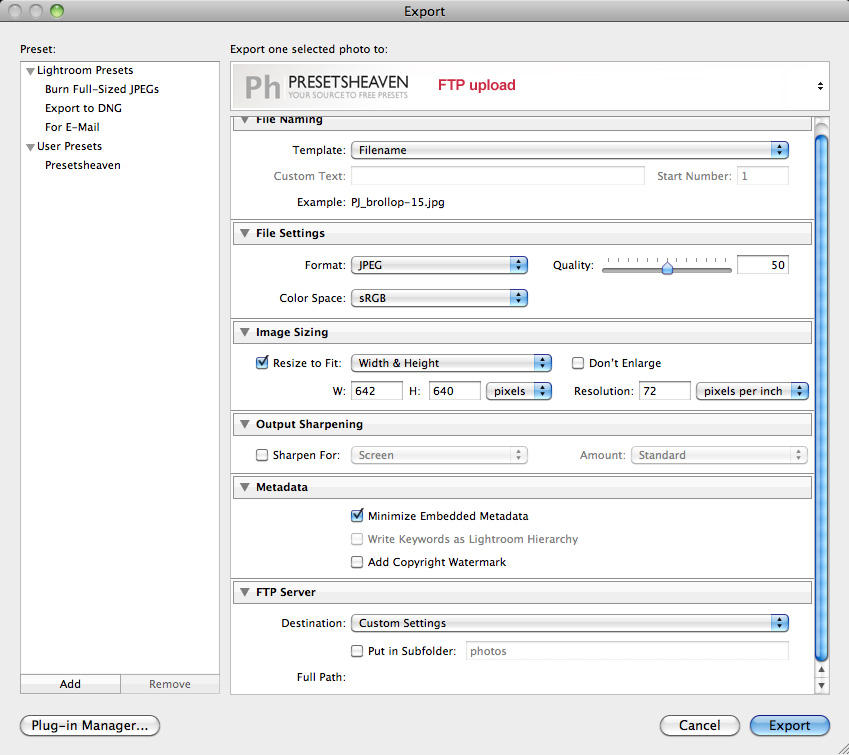 Download the PH FTP Upload Plug-in and see the installation/usage video tutorial below:
Update (091031): Due to complaints from Sean McCormack (see comment below) I have removed my PH logo in the plugin. If you want to have a "clean" plug-in you have to download the new one.

NEW: FTP Upload for Lightroom 3.0:
FTP Upload for Lightroom 3.0 (11763 downloads)
FTP Upload for Lightroom 2.0:
PH FTP-Upload (6524 downloads)
Please read:
In this video above I've just put my plugin on my desktop. You should put your plugins in a folder you won't delete since Lightroom uses the plugin from that directory. If you delete the plugin from that directory, your plugin will be removed from Lightroom! Make a new folder called "Plugins" and place all of your plugins in it…
For LR2 users, you can place your plugins in this folder for convenient storage/usage (create the "plugin" folder):

Windows XP: %APPDATA%\Adobe\Lightroom\Plugins\
Windows Vista: Â \Users\username\AppData\Roaming\Adobe\Lightroom\Plugins\
Mac OSX: ~/Library/Application Support/Adobe/Lightroom/Plugins/

Thx Jeffrey for the "Plugin"-folder tip.