I often get questions if a preset for LR3 works for LR4. Sure it does, but you need to tweak it a little bit to get the full power of LR4.
When you apply an "old" preset to an image in LR4 you will get a button an exclamation mark in the lower right corner of the image. It's a sign that there's a newer "image processing algorithm" available. This happens every time you've installed an update of LR and their image processing have been revamped as well. The little button let you update the old preset to the new version.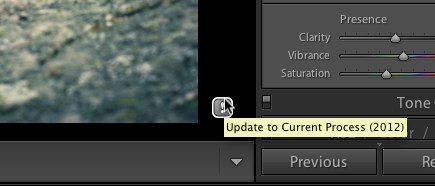 When you apply the update with the new version, you will most likely see some difference between the old and new image (preset). Especially images with these adjustments previously applied (on the old preset):
Exposure
Brightness
Contrast
Fill Light
Highlight Recovery
Black Clipping
Clarity
Tone Curve
From my experience, a little tweak on exposure will do most of the job.
If you press this little button, you will be able to convert your preset into a newer version (LR4 image processing 2012).
When a dialog opens up: Make sure to have the checkbox for "before/after review" checked so that you can see the difference between the old version and the new.
When done with your tweaking, right click (or create a new preset) on the preset you used and select "Update with current settings".
That's the way to update your old presets into new versions of Lightroom.